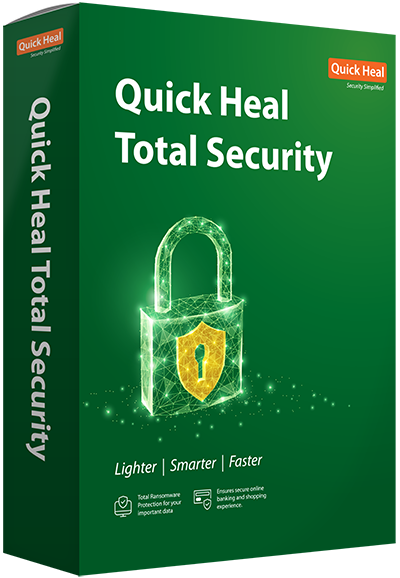 Enjoy secure digital experience with Quick Heal Total Security
Firewall Protection (2-Way Protection), Full Scan, Boot Scan, Screen Locker Protection, Emergency Disk, Browser Protection, Hijack Restore, USB Drive Protection, Wi-Fi Scanner, Game Booster
Weekly payments

Surf The Online World Safely
Browsing Protection
Blocks suspicious and harmful websites that can download malwares and worms to your PC or steal your data.
Phishing Protection
Prevents all kinds of phishing attempts that try to steal your data. Fraudsters impersonate legitimate email notifications asking for login or banking credentials. This feature detects such attempts.
Safe Family, Happy Family
Parental Control
Makes Internet a healthy platform for your children. Regulates your children's access to the Internet and blocks unwanted websites and apps to protect them from offensive content and online threats. Their safety is in your own hands.

Prevent Ransomware Attacks
Ransomware Protection
Keeps your data and PC safe from ransomware attacks.
Smart data backup and restore features act as a safety net to get your valuable data back in case of a ransomware attack.
Secure Email Communications
Email Protection
Prevents malwares coming through emails.
Spam Protection
Blocks spam emails and malware infected attachments.
Protect Your Privacy
Anti-Tracker
When you go online, there are trackers that pry on your online footprint and browsing behavior. Trackers use such data to promote marketing or sales, display ads, share or sell personal information to different companies without your knowledge. Anti-Tracker protects your privacy by blocking the trackers that collect your footprints whenever you browse online.
Webcam Protection
Detects and prevents applications and malwares from accessing the webcam of your PC without your consent to compromise your privacy.
Enhance PC Performance
PC Tuner
Helps you improve the performance of your PC and protects your privacy by removing junk files, cookies, and Internet traces.
Robust Scan Engine
Virus Protection
Blocks virus infections that try to infect computer programs to gain admin control and steal data.
Malware Protection
Detects all kinds of malware, viruses, worms, Trojans, and spyware that try to inflict your PC from various sources and removes them instantly.
Advance DNAScan
Keeps an eye on all the running programs on your PC to trace any suspicious behavior. DNAScan, our indigenous and proven detection mechanism, detects new and unknown malicious threats based on behavioral classification of the documents and files.
Do Banking & Online Shopping Confidently
Safe Banking
Protects your credentials including bank account, username, and password during banking transactions and online shopping from getting stolen.
Anti-Keylogger
Blocks all keystrokes spyware that can record your data and send to the hackers.
No Fear Of Intrusion Attack
Firewall
Protects against network attacks.
IDS/IPS
Blocks all kinds of malware intrusion and hacking attempts. Detects and blocks Remote Desktop (RDP) brute-force attempts and IP of remote attackers.
Secure Confidential Data & Prevent Data Breaches
File Vault
Allows you to create a password-protected virtual drive on your PC to secure your valuable data. Your data is stored in an encrypted format to prevent unauthorized access.
Data Theft Protection
Blocks unauthorized copying of data from your PC to any USB drive or vice versa.
Why Quick Heal Security?
Ultimate security for all Internet needs. Bank, chat, email, and browse online with round-the-clock security.
Strong Protection
Our robust scan engine provides security against known and unknown malwares, phishing, and virus attacks in real time.Ensures that you browse the Internet securely and blocks malware download on your PC.
Lightweight Footprint
Lightweight, yet powerful antivirus that uses minimal system resources and lets you enjoy the full power of your PC.
Ease of Use
The simple interface and optimum default security settings ensure minimal user intervention. Just install and register the product, and enjoy your secure digital world.
Best-in-class support
Toll-free number, online support, and a knowledge base information platform for all your queries.
System Requirements
Operating System
Microsoft Windows XP (SP2) and higher
CPU
Intel Pentium 4 or higher
Browser
Internet Explorer 6 or higher
RAM
2 GB or more
Disk Space
1.9 GB or more
Additional requirements
Internet connection to receive updates and for activation.
Minimum screen resolution 1024 X 768.