Seqrite
Unified Threat Management (UTM)
Simplify Cybersecurity Maximise Business Performance
Seqrite UTM is a high-performance, easy-to-use Unified Threat Management (UTM) solution for small and
mid-sized enterprises. The new collaborative platform architecture brings network security, management,
backup and recovery of UTM data, and many other critical network services together under a single unified
umbrella.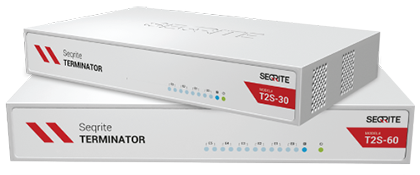 Firewall Protection
Block the unwanted access and keep the date safe.
Intrusion Prevention System
Inspect the real-time network traffic.
Gateway Antivirus
Scans the network traffic before entering or leaving the netwrok.
Web Filtering
Saves the enterprise bandwidth by blocking the non-business web traffic.
UTM Solution for SOHOs and SMBs
Secure, Safe and Virus-Free Network with UTM
With adoption of sophisticated and complex technology at workplace, SOHOs and SMBs (small and medium businesses) are becoming increasingly vulnerable to cyber threats. It is challenging for network administrators to monitor and prevent potential cyberattacks. They continue to depend on multiple security solutions such as firewall, intrusion prevention systems, antivirus and more, to protect their network security.
In today's technology-driven world, enterprises have to stay connected anytime and anywhere. A Unified Threat Management (UTM) reduces security complexities by integrating key IT security features in one integrated network security product.
This fully integrated product is a simple and smart way of replacing multiple security programs with one solution.
Seqrite UTM Technical Specifications